Hearing Impairment (Deafness)
Hearing loss can be temporary or permanent. It often comes on gradually as you get older, but it can sometimes happen suddenly.
See a GP if you notice any problems with your hearing so you can find out the cause and get advice on treatment.
Signs and symptoms of hearing loss
It's not always easy to tell if you're losing your hearing.
Common signs include:
difficulty hearing other people clearly, and misunderstanding what they say, especially in noisy places
asking people to repeat themselves
listening to music or watching television loudly
having to concentrate hard to hear what other people are saying, which can be tiring or stressful
The signs can be slightly different if you only have hearing loss in 1 ear or if a young child has hearing loss.
Loosing your hearing in one or both ears can be a worrying time. Here we have some websites with advice on help of how to deal with your hearing loss and course you can attend to help you in the future. 
The National Deaf Children's Society has a number of online training courses available for anyone who works with children or young people with a hearing impairment.
They have some mini modules which are only 10 minutes long, as well as longer modules which last 1 hour.
More information can be found on the NDCS website (opens new page).
Some people with a hearing impairment communicate using British Sign Language (BSL).  This video shows you 100 common words using BSL. 
Newsome High School have produced a video which helps to explain what Deaf Aware Teaching is.  In the video "our school" is referred to as the video was aimed at teachers in Newsome High School; however the advice is useful for all those involved with children and young people who have a hearing impairment. (Click image to access the video)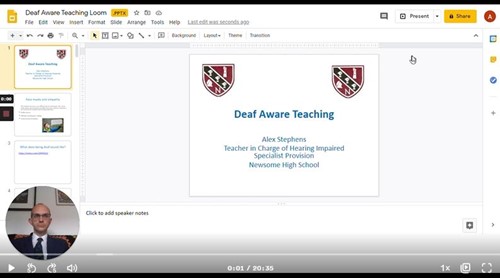 Last updated: 15/09/2021
Useful links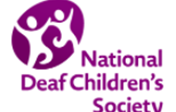 National Deaf Children's Society
NDCS