Foetal Alcohol Syndrome (FAS)
If the mother drank alcohol during pregnancy they risk causing harm to the baby. Sometimes this can result in mental and physical problems in the baby, called foetal alcohol syndrome.
This can occur because alcohol in the mother's blood passes to her baby through the placenta.
The baby cannot process alcohol as well as the mother can, which means it can damage cells in their brain, spinal cord and other parts of their body, and disrupt their development in the womb.
This can result in the loss of the pregnancy. Babies that survive may be left with lifelong problems.
Foetal alcohol syndrome is a type of foetal alcohol spectrum disorder (FASD), the name for all the various problems that can affect children if their mother drinks alcohol in pregnancy.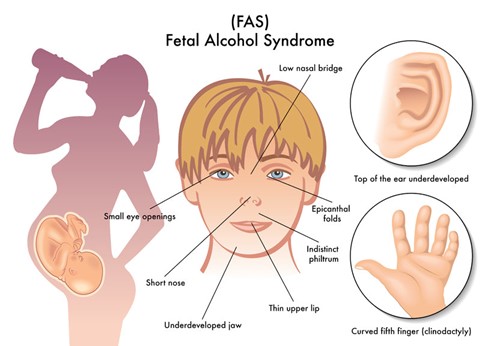 Last updated: 25/11/2021