Where a child or young person has an EHC Plan it must be reviewed at least once a year by the school/educational setting.  This is to ensure that it stays up to date and continues to provide the support the child or young person needs. Where a child or young person is in an education setting, the annual review preparation and meeting is undertaken within the setting, and recommendations are sent to SENDACT to consider on behalf of the LA. The 12 month cycle of the EHC is not fulfilled at the point of the meeting being held, the annual review is complete when the LA makes one of three decisions:
1. To maintain the EHC plan in its current form (the review meeting
recommendation is acknowledged with with the intension of no
changes to be made)
2. To amend the EHC plan (SENDACT issue an Amendment Notice)
3. To cease the EHC plan (a proposal to cease the plan as a result of it
no longer being required).
Please note - the old review process of a School report and Head Teachers report has been replaced by a single document which is completed in two parts.
Kirklees have produced a comprehensive guide to EHCP reviews, which can be found by clicking on the image below:
The EHCP review documentation can be found here.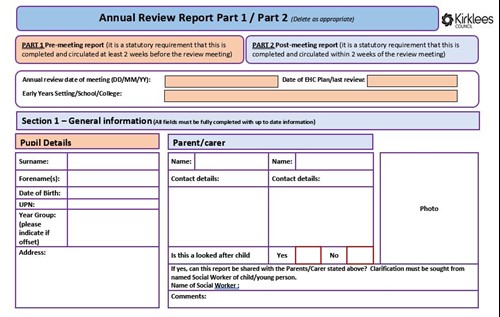 The following can offer help on developing EHCP targets following a review:
Last updated: 07/12/2020