Young peoples and adults mental health
Self-help with your emotional health and wellbeing
Good mental health is important to everyone. Leading a life with good mental health and wellbeing also supports in having better physical health.
Emotional health or mental wellbeing is about how you are feeling and how well you can cope with your day to day life. There are some helpful things you can do to improve your mental wellbeing.
Five ways to wellbeing
The five ways of wellbeing are everyday areas of life that have been shown to bring the biggest boost to your happiness. Even small steps towards these wellbeing moments can bring you benefits.  
The five ways of wellbeing are shown below.
Connect with the people around you, at home, work, and school or where you live. Take time to talk, spend time with others- it will help support and enrich you every day.
Things you could try:
Join a group that introduces you to new people
Reconnect with old friends
Find a way to spend quality time with your family and friends
"People connecting with me when I was at a low point made all the difference to me."
There are lots of opportunities in Kirklees for you to become more active. Most importantly, discover a way to be active that you enjoy and that suits your level of mobility and fitness.
Things you could try:
Go for a walk or run
Cycling
Gardening and allotments
Dance
Join a gym
"Being more active has changed my life, and how I feel about myself."
It can be easy to rush through life without stopping to notice much. Be aware of the world around you and what you are feeling.
Things you could try:
Be curious
Remark on the unusual
Notice what is going on around you when walking to work, breaking for lunch or talking to friends
"Making the time to reflect and noticing what my body was telling me has changed how I feel about myself."
Learning can boost your self-confidence and self-esteem, help build a sense of purpose, and help you connect with others.
Things you could try:
Rediscover an old interest
Sign up for that course
Take on a different responsibility at work
Learn to play an instrument or how to cook your favourite food
"Learning from other people and being able to pass that on is really rewarding."
Linking to the wider community can be incredibly rewarding and creates connections with the people around.
"Just giving an hour a week made me feel really good."
Things you could try:
Do something nice for a friend, or a stranger
Thank someone
Volunteer your time
Join a community group
Giving makes us happier and its infectious!
Mental health online self-help options (All links open in a new window)
Kooth is an online mental wellbeing community where you find helpful advice, discussion boards, chat with the Kooth team and more.  Kooth has an excellent app, the video below explains what it offers.
My Health Tools  offers support if you need help and advice with anxiety and depression.
Every Mind Matters  is a NHS support tool for a wide range of mental health issues.
NHS Moodzone  has information about coping with stress, anxiety, depression and the ups and downs of life.
Mind  is a mental health charity who can give information, advice and support on a huge range of mental health topics.
The Mental health foundation  is designed to give you more information about your mental health and help you to look after your own mental health.
Money and mental health  is an independent charity, committed to breaking the link between financial difficulty and mental health problems.
You can also download a wide range of mental health self-help leaflets from the NHS.
Kirklees mental health information card
Details of more services within Kirklees which can support good mental health can be found on the Kirklees "Feel like you have had enough" support card.  (Opens PDF in new window)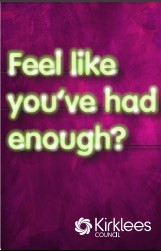 Northorpe Hall
Northorpe Hall Child & Family Trust is an independent  charity, working closely with NHS and Kirklees Council health and care services. Their staff and volunteers provide essential services supporting the health and wellbeing of Kirklees children, young people and families.
Northorpe Hall Child & Family Trust continues to support young people and work together with families, schools and other organisations.  They are still available 8am-8pm Mon to Fri and 10am-1pm on Saturdays.  Northorpe Hall are mostly using video calls and phone calls instead of one-to-one and group sessions, but if they can meet safely and it's really needed, they can meet you in person.  if you need their support, they're here for you. 
More information can be found on the Northorpe Hall Child & Family Trust website (opens in new window)
Online workshops
Northorpe Hall are running a series of online workshops to help you understand and look after your child's emotional health. You'll need a computer/laptop and a quiet space for each session.  They are  using Zoom to provide these workshops and we'll require an email address as part of booking a place. You can book them here Workshops for Parents/Carers | Northorpe Hall Child and Family Trust (opens in new window)
 Northorpe Hall Child & Family Trust | Facebook
Northorpe Hall Child & Family Trust (@NorthorpeHall) | Twitter
Northorpe Hall (@northorpehall_cft) | Instagram photos and videos
Last updated: 26/10/2020