Adults Mental Health Services
Good mental health is important to everyone. Leading a life with good mental health and wellbeing also supports in having better physical health.
On this page you can find how to get support for young adults with mental health concerns from a variety of services.
If you need urgent help and support for mental health then please call the Kirklees 24 hour single point of access team on 01924 316830
If you live in Kirklees and are over the age of 17, the Improving Access to Psychological Therapies (IAPT)  service can help.
IAPT helps people get quick and easy access to the best type of therapy for their individual needs.
How can IAPT help?
We have a team of qualified and experienced professionals specially chosen to work alongside your local GP. We can help you:
Address current problems
Gain a new understanding of your difficulties and develop new ways of coping
Make changes in your life
Talk about your difficulties in a non-judgemental and supportive environment.
What can you expect?
You will be offered an initial assessment lasting up to 45 minutes. This may be carried out over the phone or in a GP surgery. We also have clinics in centres around Kirklees. The assessment takes place with one of our friendly Psychological Wellbeing Practitioners and it is entirely confidential. They will ask you some questions about how you are feeling and this will help determine whether the IAPT service can help you.
How do I know if I need short or long-term help?
We will work with you and together decide what help and support you may need. Everyone is different so we offer different levels of support so that you get the best results – helping you to help yourself. Sometimes we recommend other services who can provide the most appropriate support for you.
Please have a look at their website for more information.  This service is provided by South West Yorkshire Partnership NHS Foundation Trust. 
You can self-refer to IAPT by completing the self-referral form.
About the service
The Kirklees intensive home based treatment team provides rapid and intensive interventions for people with acute mental health problems in the least restrictive environment as close to their home as clinically possible.
Intensive home based treatment can be provided in a range of settings and offers an alternative to inpatient care. We have the flexibility to respond to differing service user needs over an extended working day, 7 days a week.
If hospitalisation is necessary, the Kirklees intensive home based treatment team is actively involved in the discharge planning process and, if required, provides intensive care at home to enable timely discharge from hospital.
Why would someone choose the service?
The team will help you to understand your experience and work with you to identify ways so that you can better manage your mental health symptoms.
The team support people in their own homes as an alternative to hospital admission and this helps to minimise disruption to you and your family.
The team are available to support you outside of normal working hours, being more flexible to meet your needs and responsive to supporting your mental health recovery.
How to access this service
Referrals accepted from:
CMHTs, Consultants, Other Trust services, Single Point of Access team (01924 316714)
Referral criteria:
New clients will be referred to the Kirklees single point of access team and assessed before onward referral to the intensive home based treatment team.
The intensive home based treatment team will also accept referrals from other services and teams. Service users receiving care from community services will be referred to the intensive home based treatment team by the appropriate care coordinator.
Referral criteria:
Imminent risk of harm to self or others by a service user experiencing mental health problems.
A person likely to need psychiatric inpatient admission due to a mental health crisis
Acute (severe) onset of a suspected psychiatric illness.
Risk of service user's self-neglect or exploitation of a service user with mental health problems.
Loss of carer whose role is central to the delivery of care.
A service user on an inpatient ward whose discharge may be made more timely with the team's input.
Service users accepted for home based treatment will have risk assessment scores which indicate high levels of risk/need.
Whilst the above statements provide a broad outline of service users appropriate to receive intensive home based treatment team services, the referral criteria does not exclude any particular individual or diagnosis. The service will maintain the flexibility to provide care to all those deemed appropriate following a comprehensive assessment.
Active for Life is a Kirklees wide exercise referral scheme specifically designed to support individuals who experience severe functional mental ill health to increase their levels of physical activity.
The scheme enables clients, via a referral to work with exercise professionals over an extended period with the goal of developing the confidence, skills and abilities required for regular physical activity to become a sustainable part of their lifestyle.
By the end of the 12 week programme it is envisaged that the client will have become more active in a way which suits them and will be experiencing both the physical and mental health benefits regular physical activity can bring.
The Kirklees Advocacy Service  provided by Touchstone enables people who are experiencing mental health problems to understand their rights, speak up for themselves, find good information and make important decisions.
CLEAR (Community Links Engagement and Recovery)  is a recovery-focused service for people in Kirklees with a range of mental health needs.
Community Links provide a range of social and leisure activities which aim to develop confidence and motivation.
The WomenCentre  service is available in Dewsbury and Huddersfield and offers drop-ins, counselling, one-to-one support, group work, self-help groups, confidence building, eating disorder groups, anger management and other mental health support in a woman only environment.
Community Links Changes  provides specialist support in the Kirklees area to women with recent offending and complex needs, including personality disorder.
Men's talk  is a performing arts group for men who have experienced mental health issues.
Platform 1  helps men to reconnect with their family and communities, support with housing issues and provide free advice on mental health, addiction or bereavement counselling.
Andy's Man Club  have groups for men to be able to go and talk to.
Luke's Lads  encourages and supports men to talk about their feelings in an alternative environment.
Carers Count  is the service in Kirklees for any adult carers impacted by someone's mental health or drug or alcohol misuse.
Carers UK  offer expert advice, information and support for carers, including an online community to share what is on your mind.
The Richmond Fellowship employment service  can help support you in finding meaningful paid employment, volunteering opportunities, education or training.
We work with people living with mental ill health, early onset dementia and those on the autistic spectrum to help achieve their goals.
Connect housing  is a well-established supported housing team who support people with mental health needs to maintain their tenancies independently and move on into more permanent, secure and independent accomodation in the community.
Making Space (supported housing and tenant support)  is a national organisation which supports people with a range of mental health conditions, learning disabilities, dementia and their carers.
Fusion housing  provide a confidential and free advice service for individuals age 16 and over and can assist you with housing and related matters.
Get creative, learn new skills, improve your wellbeing and discover the great outdoors with S2R The Great Outdoors 
Support the development of your creativity to build confidence and esteem, encourage personal growth and creative expression. Hoot Out of the Blue  offer music, dance, art, drama and digital arts.
Kirklees mental health information card
Details of more services within Kirklees which can support good mental health can be found on the Kirklees "Feel like you have had enough" support card.  (Opens PDF in new window)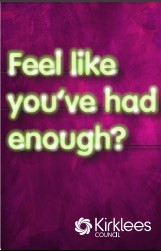 Last updated: 02/06/2021