School refusal and anxiety
Sometimes children with special educational needs will refuse to attend school, this can be for a number of reasons including anxiety.
Parents and carers do have a responsibility to ensure that their children attend school if they are on roll at an educational setting.  Schools have a legal duty to monitor and enforce good attendance. This means that, if they don't know the circumstances, they might consider fining you for your child's non-attendance or start court proceedings.
There are a number of places that parents can go to for help:
School SENCO, they can talk to you about how they can support your child back into education through adjustments to their school day.  Make sure that school staff are aware of your child's anxiety and how this affects their attendance. The school should work with you to agree an action plan, which should include review meetings. 
Any other professionals involved either in or out of school.  
Thriving Kirklees - It is a good idea to speak with your GP about any anxiety your child is having, GP's can refer you to Thriving Kirklees for mental health support.  Parents can also make a referral for mental health support through Thriving Kirklees via their website or calling 0300 304 5555.
Ethos College can offer medical home tuition to those who have been diagnosed with having a medical reason to be unable to attend school.  More information can be found on the Ethos Medical Tuition page.
YoungMinds is a charity which provides support and advice for parents and carers when children are experiencing problems due to their mental health - including anxiety and school refusal.  They have produced a lot of helpful information including a parents guide about school refusal (opens PDF in new window).  They also have a helpline number: 0808 8025544.  They have produced a page that is all about school refusal and anxiety (click image to open page in a new window).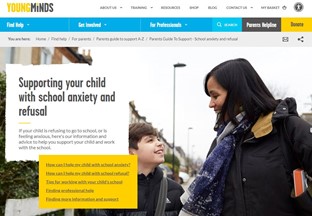 Youngminds have produced a series of videos about returning to school
Ask your child what's worrying them. Focus on listening and providing emotional support, and reassure them that you can work together to make things better. You can find our tips on starting a conversation with your child here.
Think with them about changes that could be made at school, at home or in their daily routine to help them feel less worried. You can use some of the ideas we've listed later in this guide.
Reach out to their school as early as you can to avoid things building up. Work with their class teacher or form tutor, the pastoral team and other key staff to improve the situation.
Talk with your child about strategies that help them to express and manage their anxiety. This could be spending time with particular friends, listening to music, reading, playing sport, drawing, cooking or watching a favourite film.
Plan a regular morning routine that can be followed each day – from getting up to having breakfast, getting dressed, leaving the house and arriving at school. This will help to create a sense of security.
Consider using a worry journal if your child feels particularly anxious while they're at school. They can carry this with them and write down a worry when it comes into their head, helping to keep anxious thoughts from becoming overwhelming.
Younger children might find it helpful to make a 'worry box'. Decorate any kind of box such as a cereal or shoe box together, and designate a 'worry time' when your child will write down what they're anxious about. Then post it into the box, close the lid and agree not to give it anymore worry time that day. If your child would find it helpful, you can also choose a time to talk through worries together.
Teenagers might find it helpful to make their own self soothe box, which they can fill with all the things that help them when they're feeling worried. You can find a young person's guide to making one here.
Ask them what it is about school that makes them not want to go, and validate their experience of finding these things difficult. Stay as calm as you can, taking your child's worries seriously and listening to how they're feeling.
Even though the situation may feel stressful, don't shout, tell them off or physically force them to go to school. This is likely to increase their anxiety.
Speak to your child's teacher or form tutor as soon as possible. Have they noticed any changes in their behaviour, or in their friendship group or class? Tackling the problem early can be really helpful, as the longer your child is out of school, the harder it can be to go back.
Ask their teachers if there are particular moments when they seem to struggle. For example, it might be during lesson changeovers, break-times, particular subjects, the journey to school or through the whole day. This can help you identify triggers.
Keep in regular communication with key staff at the school, and work with them to make changes that will help. You can use the tips below to help you.
Make a log of the days when your child doesn't want to go to school. This will give you a better sense of when and how often they feel like this, and can also help you raise it with the school.
Be consistent with the strategies you try to help them get back to school. Let your child get used to them and remember that it might take a while for something to work. Changing between lots of strategies quickly can be confusing, so only move on when you've tried something for a while without it helping.
Try to stick to the same routine and praise your child for every small step they take. This could be getting out of bed at the right time, eating breakfast, washing and brushing their teeth, getting dressed and eventually leaving the house.
If things are difficult and have already been going on for a while, you can also:
Ask the school to arrange a reduced timetable, with only a few lessons each week – with the aim of building back up when it feels manageable for your child
Discuss the possibility of changing forms, sets or tutors if your child thinks this would help
Request a home visit from the school, where a staff member can check-in, show your child the school cares about them and discuss strategies for moving forward
Think about small, achievable targets your child can work towards
Last updated: 16/12/2020