Thriving Kirklees text messaging service - ChatHealth
Thriving Kirklees now has a new way for young people to get confidential advice and support about health related issues direct from their mobile phones.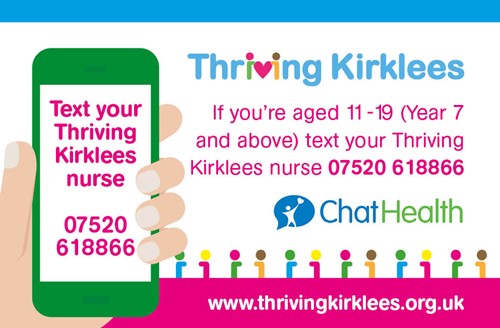 ChatHealth is an award-winning text messaging service which is available for Kirklees' young people aged 11 – 19 years. They can receive advice from Thriving Kirklees nurses on subjects including sexual health, emotional health and wellbeing, bullying, healthy eating and any general health concerns.
The number is 07520 618866 and it is available Monday to Friday from 8am to 8pm
There is also a number for parents to get help and advice for young people - 07520 618867
The service is part of Thriving Kirklees' aim to further improve access to healthcare for young people and to continue improving the quality and safety of the service.
Last updated: 03/08/2021