Support plans in schools (IEP, ANP and MSP's)
If a school decides that a child does have SEN, they will talk to parents/carers and the child about this and come up with a plan of what they are going to do. They will write this plan down and share it with all the child's teachers and the parents/carers. There is no set way for schools to write these plans, most Kirklees schools use Individual Education Plans (IEPs), Additional Needs Plans (ANPs), provision maps and My Support Plans (MSPs) 
IEP's, ANP's and provision maps generally are used when a child or young person has lower level SEND which can be supported by the teacher in the classroom, if there are more concerns or the SEND is more complex a MSP would be used.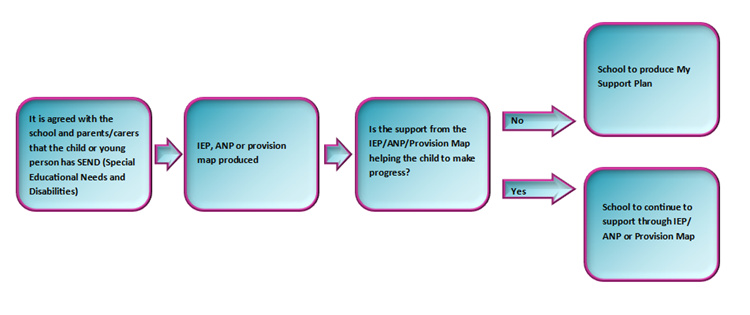 The next step from a MSP is for the school to apply for an EHCP.  This is a part of the Graduated Approach, this is covered more on the SEN Support page.
When a plan is written it will also be agreed when it needs to be reviewed. Any of the plans below will be reviewed regularly, so that progress can be discussed along with any changes that need to be made.   
The review and the changes will be written into the plan.
IEPs and ANPs  (Individual Education Plan and Additional Needs Plan)
These plans are used for low level SEND and the whether schools use IEP's or ANP's is up to each school.  Schools often will produce their own layout, but they should simply explain what the child's strengths and needs are, what the child's targets are and what help the teacher can give them to help reach these targets.
Provision maps 
Provision maps are a clear way for schools to show all they do that is additional to or different from that which is offered through the school's curriculum. SENCOs can highlight sections of a provision map so that parents/carers can see the support that has been given to their child. Alongside this schools will also keep notes of discussions with parents/carers including agreed outcomes and tracking data and information about progress. 
My Support Plans 
Most children will have their needs met and make progress with schools using their own approach to planning and recording as described above, i.e. provision maps, IEPs/ANPs. However, some children will need a more coordinated and personalised planning approach to meeting their SEN. In these cases the school will decide whether a My Support Plan is necessary, particularly if: 
a child continues to make limited progress despite SEN support delivered by appropriately trained staff 
several professionals are involved, and it is important that everyone agrees about the child's strengths and needs, as well as the outcomes and what will happen to meet these 
A My Support plan should be reviewed three times a year to see if a child or young person is making progress towards their outcomes. Sometimes schools will use parents' evenings to review the plan and parents/carers should think about asking for extra time at a parents' evening to discuss the plan if this would help.  
The review is a parent's/carer's opportunity to ask any questions or raise any concerns they have. If a parent feels unsure about doing this, they should consider taking another person to the review who can support them. If the date of the review is difficult for the parent/carer to attend, they should contact school and ask for it to be changed. 
It is important for the parent/carer and the child or young person to prepare for the review so that they are confident about what they want from it, and what they need to ask. Parents/carers should read through the My Support Plan and make sure that they can understand it and they agree with what it says. During the review, parents/carers can ask for changes to be made to the plan, for other professionals to be involved or for a request for an EHCP to be done. 
Kirklees has developed the My Support Plan in partnership with the parent carer forum (PCAN (Parents of Children with Additional Needs)), schools, early years practitioners and representatives from Education, Health and Social Care. 
Kirklees has produced a My Support Plan template (this will open in a new window).
Last updated: 12/10/2020