Children and young peoples mental health (inc Thriving Kirklees & CAMHS)
Kirklees CAMHS is part of Thriving Kirklees, a partnership of local health and wellbeing providers all working together to support the health and wellbeing of  children, young people and their families.
You can access support via the Thriving Kirklees website (opens a new page) or you can call
0800  1488244
Thriving Kirklees involves five different organisations working across together in Kirklees
• Locala Community Partnerships CIC
• Home-Start Kirklees
• Northorpe Hall Child and Family Trust
• South West Yorkshire Partnership Foundation Trust (CAMHS)
• Yorkshire Children's Centre
The partnership includes Locala, Home Start, Northorpe Hall, Yorkshire Children's Centre and South West Yorkshire Partnership NHS Foundation Trust (SWYPFT)
The service offers assessment and treatment for children and young people with severe (based on presentation and risk) and long-standing mental health issues or disorders.
The team works hard to build positive relationships with children during such a challenging period in their life. The coping strategies and self-management techniques our team use, ensure that children can live life to their full potential.
CAMHS supports children and young people by working in partnership with other organisations within the Thriving Kirklees Partnership but also with other agencies including Social Care and schools.
The service has a number of different ways (or Pathways) of working with children, young people and their families.
Below is a guide to show what CAMHs involves.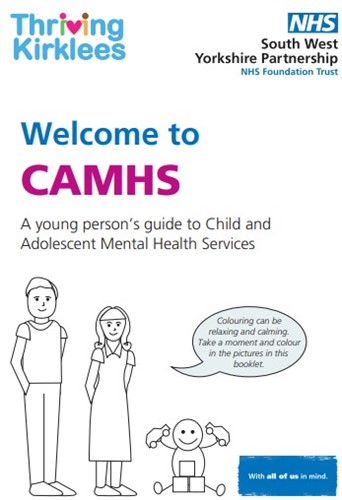 Thriving Kirklees text messaging service - ChatHealth
Thriving Kirklees now has a new way for young people to get confidential advice and support about health related issues direct from their mobile phones.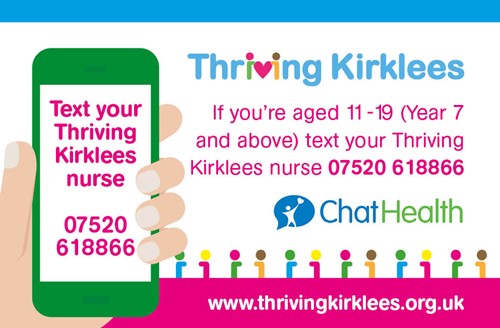 ChatHealth is an award-winning text messaging service which is available for Kirklees' young people aged 11 – 19 years. They can receive advice from Thriving Kirklees nurses on subjects including sexual health, emotional health and wellbeing, bullying, healthy eating and any general health concerns.
The number is 07520 618866 and it is available Monday to Friday from 8am to 8pm
The service is part of Thriving Kirklees' aim to further improve access to healthcare for young people and to continue improving the quality and safety of the service.
Provides support for children and young people aged 0 - 18 with learning disabilities who are experiencing additional mental health problems. This may be shown by a change in behaviour or general presentation.
Provides assessment and interventions for children and young people with severe and long-standing mental health problems. Other specialist interventions include access to Child & Adolescent Psychiatry and clinicians specialising in Eating Disorders.
The Kirklees and Calderdale CAMHS Crisis team currently operate Monday to Sunday 9.00am to 8.00pm.
The Crisis Team also operate a Crisis Helpline:
07385 399840
This is for out of hours – Monday to Friday 5pm to 8pm, plus weekends and Bank Holidays from 9am to 8pm.
After 8pm to 9am, please go the your nearest Hospital A&E department, the Psychiatrist Liaison Team cover all CAMHS assessments at A&E.
There is currently one Duty Worker for the Crisis Team on duty each day and one clinician in the afternoon working until 8pm to accommodate the increase in volume of referrals.
The Duty Worker's role is to either phone or attend three A&E departments (Huddersfield, Dewsbury and Calderdale) to either assess or consult young people who have presented in crisis and provide care planning and support to young people and their families or offer advice and consultation to the wards where the young person has been admitted.
The Crisis Team also attend paediatric and medical wards to assess young people's mental health after having treatment following an overdose.
The Crisis Team also accept referrals from specialist Core CAMHS for additional crisis interventions.
Kirklees and Calderdale CAMHS along with the Crisis Team also promote charity Night Owls (click link to open page in new window) which is a support service available 8pm to 8am every day for children, young people, parents and carers across West Yorkshire.
They off listening, advice, support and information.
Call Night Owls free on 0800 1488244 text on 07984 392700 or go to their website via this link to use the online chat function.
More about Thriving Kirklees
Thriving Kirklees offers a range of services including:
0-19 Team (Health visiting and school nursing)
CAMHS
ChEWS (Children's emotional health and wellbeing service)
Neurodevelopmental assessment (including Autism & ADHD) 
Home-Start Kirklees
Healthy Start Vitamins
Safety in the home
Safety Rangers
Chathealth (text advice and support service)
Kooth (online counselling and support)
Volunteering
Online resources
For more information, please visit the Thriving Kirklees link at the bottom of this page.
Please click on the links at the bottom of the page for more information about the services and support available from Thriving Kirklees, CAMHS and Youngminds
Who is this service for?
The service is available for all children and young people aged 0-18 years, registered with a Kirklees GP or remains the responsibility of Kirklees district under responsible commissioning guidance.
The service will also provide an urgent mental health response to children and young people visiting within the geographical boundary (via A&E)
How to access what we do
Referrals will be accepted via the Thriving Kirklees website (opens a new page) or call 0300 304 5555
Referrals can be made by young people, a parent/carer or a professional involved in the child, young person's or families care.  
Referrals will be accepted where there are concerns that a child or young person has severe and enduring mental health difficulties and/or exhibiting symptoms of one or more of the following:
ADHD (attention deficit hyperactivity disorder) in school aged children (assessment to see if a diagnosis can be given and for medical treatment after diagnosis)
Autistic Spectrum Disorders (assessment to see if a diagnosis can be given)
Learning disabilities and associated Mental Health difficulties
Tic disorders (assessment to see if a diagnosis can be given)
Moderate to severe depression (not responding to short term interventions)
Moderate to severe anxiety or phobia (not responding to short term interventions)
Severe self-harm and and suicide attempts
Obsessive Compulsive Disorder (OCD)
Eating disorders with significant risk to health (such as Anorexia Nervosa or Bulimia)
Psychosis (in those aged under 14)
Persistent post-trauma reactions including traumatic bereavement, PTSD and complex trauma
How to make a complaint, appeal a decision, or provide feedback
The service encourages feedback as a way of improving services. If you wish to share your views and experiences, positive or negative, please contact the service in the first instance. The service may directly be able to resolve any issues quickly.
If however, you are not satisfied with the response, SWYPFT have a dedicated Customer Services Team who deals with all comments, compliments, concerns and complaints.
You can contact the Customer Services Team in the following ways:
In person: We are happy to meet with you. You can contact us in one of the ways below to arrange an appointment. If you are in hospital you can ask a member of staff to contact us on your behalf.
By telephone: 01924 316060
By email: customer.servicesSWYT@nhs.net
By post: Customer Services, South West Yorkshire Partnership NHS Foundation Trust, Block 10, Fieldhead, Ouchthorpe Lane, Wakefield WF1 3SP
Northorpe Hall Child & Family Trust is an independent  charity, working closely with NHS and Kirklees Council health and care services. Our staff and volunteers provide essential services supporting the health and wellbeing of Kirklees children, young people and families.
Despite Covid, Northorpe Hall Child & Family Trust continues to support young people and work together with families, schools and other organisations.  We're still available 8-8 Mon to Fri and 10-1 on Saturdays, just as we always have been.  We're mostly using video calls and phone calls instead of one-to-one and group sessions, but if we can meet safely and it's really needed, we can meet you in person.  if you need our support, we're here for you. You can still contact us as usual.
Northorpe Hall Child & Family Trust
Online workshops
We can't run our workshops for parents and carers on site just now, but we can offer them by online video. Workshops help you understand and look after your child's emotional health. You'll need a computer/laptop and a quiet space for each session.  We're using Zoom to provide these workshops and we'll require an email address as part of booking a place. You can book them here Workshops for Parents/Carers | Northorpe Hall Child and Family Trust
 Northorpe Hall Child & Family Trust | Facebook
Northorpe Hall Child & Family Trust (@NorthorpeHall) | Twitter
Northorpe Hall (@northorpehall_cft) | Instagram photos and videos
Last updated: 12/10/2020