What are Special Educational Needs and Disabilities (SEND)?
A child or young person has special educational needs and disabilities if they have a learning difficulty and/or a disability that means they may need special health and educational support, we shorten this to SEND.
When a child or young person has SEND it does not mean that they will not achieve their dreams in life, it may mean that they just need some extra help to get there.
SEND is broken down into four areas:
Many children and young people will have SEN of some kind at some time during their education.  Early years providers (for example, nurseries or childminders), mainstream schools, colleges and other organisations can help most children and young people succeed with some changes to their practice or additional support. But some children and young people will need extra help for some or all of their time in education and training.
Cognition and learning – for example, where children and young people learn at a slower pace than others their age, have difficulty in understanding parts of the curriculum, have difficulties with organisation and memory skills, or have a specific difficulty affecting one particular part of their learning performance such as in literacy or numeracy.
Communication and interaction – for example, where children and young people have speech, language and communication difficulties which make it difficult for them to make sense of language or to understand how to communicate effectively and appropriately with others.
Social, emotional and mental health difficulties – for example, where children and young people have difficulty in managing their relationships with other people, are  withdrawn, or if they behave in ways that may hinder their and other children's learning, or that have an impact on their health and wellbeing.
Sensory and/or physical needs – for example, children and young people with visual and/or hearing impairments, or a physical need that means they must have additional ongoing support and equipment.
Some children and young people may have SEN that covers more than one of these areas. 
Many children and young people who have SEN may also have a disability. A disability is described in law by the Equality Act 2010 (opens new page) as 'a physical or mental impairment which has a long-term (a year or more) and substantial adverse effect on their ability to carry out normal day-to-day activities.' This includes, for example, sensory impairments such as those that affect sight and hearing, and long-term health conditions such as asthma, diabetes or epilepsy. 
The Equality Act requires that early years providers, schools, colleges, other educational settings and local authorities: 
must not directly or indirectly discriminate against, harass or victimise disabled children and young people.
must make reasonable adjustments ,including the provision of auxiliary aid services (for example, tactile signage or induction loops), so that

disabled children and young people are not disadvantaged compared with other

children and young people. This duty is what is known as 'anticipatory' – people

also need to think in advance about what disabled children and young people

might need

.

 
The law says that children and young people do not have learning difficulties just because their first language is not English, although, of course, some of these children and young people may have learning difficulties as well.
Children with SEND related to cognition and learning often have a learning difficulty. Learning difficulties are classified in the following ways:   
Specific Learning Difficulty (SpLD) - Specific learning difficulties include Dyslexia, Dyspraxia and Dyscalculia. A child with SpLD may require some support in school targeted to their specific area of difficulty such as spelling or numeracy (see information below).
Moderate Learning Difficulty (MLD) - A child with MLD may take longer to learn skills than the majority of their peers and are likely to require extra support in school.   
Severe Learning Difficulty (SLD) - A child with SLD will have significant learning impairments which will impact their ability to learn without high levels of specialist support.   
Profound and Multiple Learning Difficulty (PMLD) -  A child with PMLD will have complex learning needs. In addition to severe learning difficulties they may have physical difficulties, sensory impairment or a severe medical condition. A high level of specialist support will be needed at all times.   
There are lots of abbreviations used when talking about SEND, you can find an explanation of the most common ones here.
What about Dyslexia, Dyspraxia and other specific learning difficulties.
A specific learning difficulty (SpLD) is a difference or difficulty with some aspects of learning.  
The most common SpLDs are Dyslexia, Dyspraxia, Attention Deficit Disorder/Attention Deficit  Hyperactivity) Disorder (ADHD), Dyscalculia and Dysgraphia.  
Sometimes a young person is given a diagnosis of Specific Learning Difficulties, rather than Dyslexia or Dyspraxia because the young person experiences a combination of difficulties which cannot be readily categorised but may include features of one or more recognised SpLDs. 
Similarly, some people will have an assessment for more than one SpLD; it is very common for there to be an overlap as indicated below: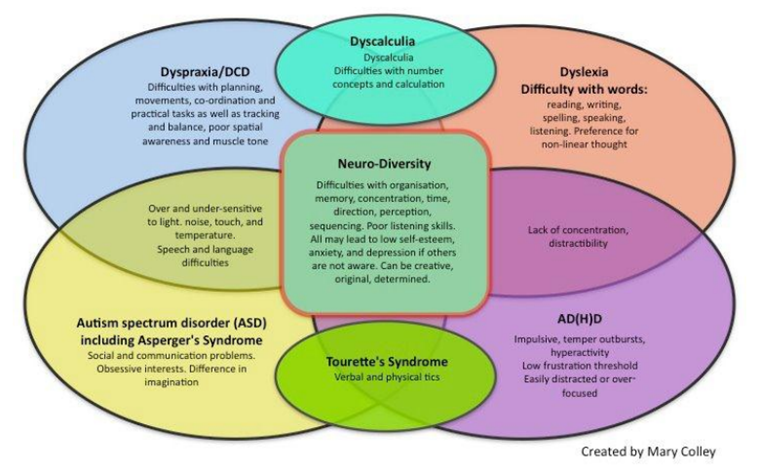 More specific advice can be found in the Common Concerns - Information and support for specific conditions section.
Last updated: 05/10/2020